One thing most businesses ignore today while marketing is the senior citizen advertising. Presuming seniors don't use the internet or smartphones is the biggest mistake most companies make. A study by Martech Zone shows that almost 70% of the individuals aged 65 or above spend around 27 hours online per week and 82% of seniors use search engines to find information on their favorite topic.
Hence, if businesses aren't considering senior citizen advertising, they are neglecting a massive base of their potential customers. It's beneficial to utilize email marketing for marketing your brand, and purchasing a senior source list can lessen your burden.
Also read our blog- Why marketing to seniors is important for understanding senior's spending potential.
Do Seniors Citizens Communicate Via The Internet?
Another stereotype about the senior group is that they don't use the internet or social media to communicate with their family or friends as much as the youngsters. On the contrary, studies show that approx 75% of the seniors communicate with their relatives utilizing at least one form of messaging app.
The two most used ones are FaceTime and Skype since they both make it significantly easier to communicate and coordinate with its unique features, including video calls and sending images. Studies also conclude that senior groups find messaging much more suitable.
Let's quickly hop onto the advantages of buying a senior source list and understand how purchasing an emailing list can be the best option for you.
Advantages Of Buying A Senior Source List
A study by Statista shows that 84.1% of 65 and above aged individuals use emails to communicate. You can use email marketing to personally interact with your customers yet make them trust your brand. Seniors do a lot of research and then make a decision, but once you make them understand everything, they will definitely inject loyalty into your brand.
It is vital to have a relevant list ready with you while you initiate your campaigning strategy. Just by sending an email, your work isn't finished. Tracking performance is equally essential. Searching down an email list from search engines looks comfortable but may have many inclusive drawbacks.
Share Of Email Users By Age Group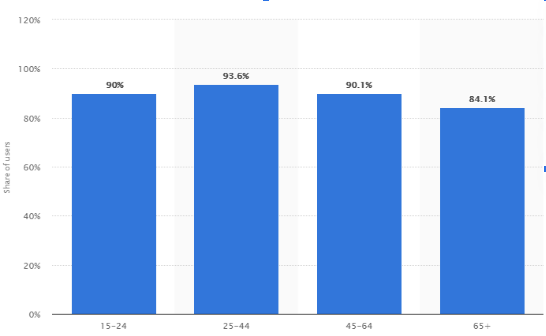 Image Source- Statista
1. Relevant And Accurate Email List
In the language of marketing, it's said that the more accurate your database is, the more customers you'll reach. Business's mainstream goal is to get to their customers and consistently target their needs. When you buy a senior source list from a mailing list service provider, they assist you with the most accurate and relevant list that aids your business. With a precise list, you are open to target a wide range of potential customers that aligns with your business model.
2. High Delivery Rate And Low Bounce Rate
A purchased list gives you a high deliverability rate yet lowers your bounce rate. When your deliverability is high, it also avoids the chances of spamming your emails. A mailing list service provider delivers you a legal list, which counters your mails' chances of spamming.
A legal list implies that the people on that list have given their full consent for receiving emails. So you are simply getting an opportunity here, to make a long lasting impression on your customers.
3. Qualitative List
Imagine the situation where you are investing your time and energy in emailing your customers. In the analysis, you get to know that most of your list is piled with wrong information, leading to a high bounce rate. What will you do at that very moment? Well, you'll be devastated. Hence, a quality senior citizen database is crucial for effective marketing campaigns.
4. Target Right Audience
With a relevant and accurate list, you can effortlessly target an appropriate audience for your business rather than juggling in a pile of information that's not even necessary. Targeting suitable seniors is vital to an effective marketing campaign. When your audience is correct, you can connect with them via emails and drive them to your social media and website. Leading them to your website and social media will increase your brand's awareness and reach amongst them.
How To Get A Quality Senior Source List
By now we know how significant it is to target the senior community over the internet. We know that finding the most accurate senior database is very tough and you may wind up getting a poor quality mail list. Why not avoid that nightmare and purchase a senior citizen database list?
Purchasing a list implies that the difficult part is already done, and what you get is a full-fledged researched database that is relevant and legal. You'll never have to worry about the quality and accuracy of the list. A mailing list provider always ensures to provide you the best quality services.
Read our blog -Why Better Data Is the Key To More Effective Direct Mail Marketing to get more info on why accurate data is important for effective email marketing.
Conclusion
A massive percentage of this age group is indulged in using the internet and emails daily. Companies need to realize that they are losing a huge part of their profits by neglecting the senior community. Senior individuals have higher spending potentials, and with the power of email marketing, you can boost your sales. The best option is, to purchase a senior source list and target your business's most relevant audience.
Get A Quality Senior Source List ASAP!!
After reading the senior source list's above advantages, you know why you need to purchase a list ASAP. To grow your business with us and get the most accurate updated data list, peek through our site Senior Source List, and we will help you reach out to more seniors. For more information, contact us to speak with one of our marketing professionals @ 1-800-882-9930.