Lead generation in the healthcare industry remains an unexplored domain which makes it more challenging with its ever-changing requirements. And so has changed the requirements of patients/customers. Introduction of medical innovations are bringing positive impacts on the lives of the consumers. Thus, it is vital for healthcare organizations to meet their customers wherever they are- this is where email marketing comes into play. Email marketing is an essential component of consumer acquisition channels which in stric marketing verbiage is known as Lead Generation.
What is Lead Generation in Healthcare?
Lead Generation is the process of attracting consumers/ patients and converting them into paying customers by offering them services and products they are looking for. The process alone is a system that involves implementing tons of strategies. And these strategies tend to give you a headache.
In business, lead generation is often addressed as the sole methodology that can revive your dying healthcare business or give a push to your start up. Whether you are a business-to-business or a business-to-consumer firm, Healthcare lead generation is critical.
Speaking of lead generation, there is no shortage of strategies available to engage customers. But which one is that you should choose?
Healthcare Email Marketing
Healthcare Email marketing is one of the best email marketing ways to keep your patients engaged in your business. How? Healthcare email marketing keeps your patients up-to-date.
Healthcare emailing is an excellent digital marketing channel for sending industry-related pieces of information, newsletters, news, appointment reminders, and many more.
How to generate leads in healthcare?
In today's digitally connected world, the best way to generate leads in healthcare is to include email marketing in your toolkit. You can build consumer trust by providing your email subscribers with valuable information about their health and your facility. You can foster a positive and long-lasting patient relationship.
Use Appointment Reminders
Missing their paid appointments is what a patient hates the most. To ensure consumer engagement, send appointment reminders to the email subscribers who have an appointment with you. Sending appointment alerts through email is counted amongst the top rated channels in healthcare email marketing. Emails with information that helps patients better understand their health or stay up-to-date with changes at your facility are a great way to stay top of mind.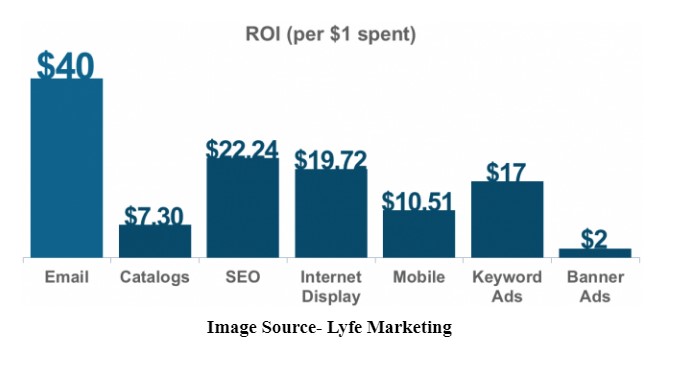 Image Source-Lyfe Marketing
Targeted Messages
One of the greatest benefits of healthcare email marketing is the ability to send targeted messages that resonate best with different audiences. By segmenting your email list, you can create separate lists of patients with similar interests or concerns. This allows you to send more targeted and relevant content to your email subscribers. The more relevance and value you can provide, the more likely readers will be to come to your facility when they need help.
Organize Health camps
Keeping hale and hearty is a wish come true in today's fast paced world that runs on fast food. While we all acknowledge the adverse effects of such high-in-oil content food items, our hassled life gives us no choice. Result? More noticeable problems in age groups of 15+ adobe all the way to 90+. Your one step towards your consumer's sustainable health can be fulfilled by organizing HEALTH CAMPS. All you need to do is, send out specialised emails regarding this event and enjoy meeting new leads.
From health conscious seniors to gym goers, all can become your customers if you move strategically. For your convenience, here is a pamphlet for you to refer to.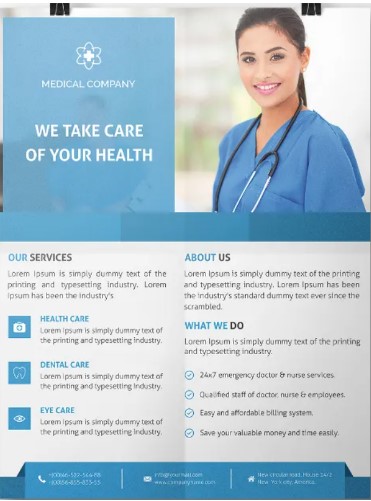 Image Source- Google
What's Next After Creating My Customized Email?
Once you have composed an attractive email, now you need the accurate people to receive this email right! You can either buy a professional and authentic email list from a list provider or simply shoot bullets in the dark. We are sure you will prefer the former approach as you wouldn't want to waste your time and energy.
The obvious step is to let a professional team curate a personalized list for you. Having this list will be beneficial for your business as you will get to know customers for future events as well.
Conclusion
The Health Industry may be changing but what remains never changing is people's inspiration to grow healthy. Each business is made up of its customers. And here we excel. Get you customers. please call us toll-free at 1.800.457.2899 or email us at sales@amerilist.com