In today's market competition the significance and benefit of connecting with your audience cannot be emphasized enough. However, building community connections using fewer tools can be difficult especially when you have a senior community on your radar.
Why?
Well! Because you cannot treat them like helpless and old age adults who have no interest in social media and technology. To your surprise, Seniors love social media platforms and like to stay updated with trends like everyone. Thus, as a marketer, your job just gets more tricky.
But don't worry. We are slipping you a secret. You can connect with your senior audience on a more serious level with this trick.
Give a touch of emotions to your messages.
No! We don't want you to insert crying emojis in your emails or direct mails. You need to understand what is more close to seniors when they look for products and services. Is it just their own comfort. No!
Let us put it like this.
When seniors buy a product or service, they often buy products that can be used by the entire family.
Thus, displaying messages that will be advantageous for all members of the family stands a better chance of being noticed and availed. To prove this, pick one from the following images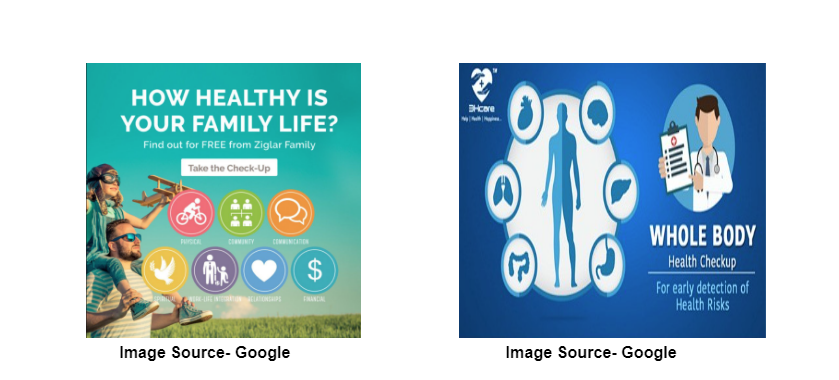 We are sure, irrespective of whether you are a senior or not, you would have picked a medical check up that offers coverage for the entire family.
The point of presenting this example is to showcase to you an insight into what seniors are most drawn towards and the emotion of family that influences their decisions.
Now let us quickly jump to 5 ways to connect with your senior consumers emotionally.
1. Speak Clearly to Your Seniors.
As business leaders, you would understand it is important to be sensitive while sending messages as when mixed messages reach individuals negative emotion dominates our minds. The process of classifying information by the human brain is dual in nature. It is either/or category. Unclarity in your message will create confusion in the senior decision maker's mind.
Always prefer to send clear messages. The answer to your consumer's question should always be more than just what money can solve. Making money isn't bad, but you need to know that it isn't the force that drives all consumers to your brand.
2. Keep Connecting.
Everyone knows marketing is a world that focuses on conversion rates, bounce rates, impressions, and bids. However, not all of the marketing is a battle of products and services. To be specific, senior marketing is more about communication tha branding.
Today marketing has become more about investing money on branding and losing the essence of communication. Seniors love exclusivity but they also want messages that are familiar. Who wants to waste their time understanding what you said weeks ago. To stay in their sight, keep sending your emails on a regular interval.
3. Use Humor, and Compassion to Engage Seniors.
Russell H. Conwell said-
Smiling is infectious,

you catch it like the flu.

When someone smiled at me today,

I started smiling too.
Never underestimate the power of emotions. If someone can make you smile, you know there's a pretty strong emotional bond there. Making your audience smile is great to break the ice because as humans, we love to express.
Next time you write an email for seniors, grab the opportunity to make an inside joke that your recipients can understand. Or if you've recently experienced an issue that your audience can relate to, tell them about it and explain how you resolved it.
For example, BarkBox is a brand that makes sure to keep a humorous tone in their email marketing.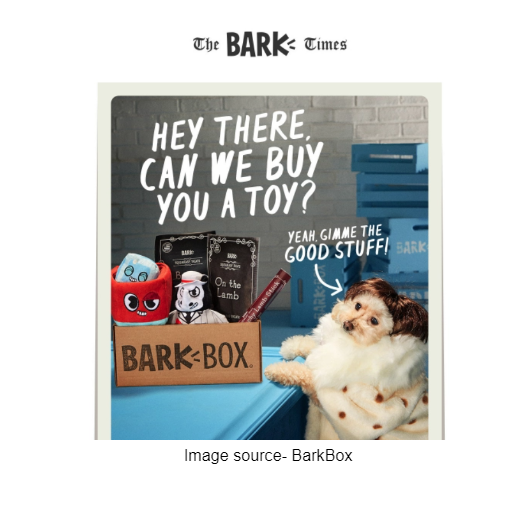 Senior Citizens are pet lovers too. So if you are a dog food company too and looking forward to connecting with your senior consumers emotionally, include these four-legged fur friends in your email marketing campaign and we are sure this email will not be overlooked.
Another great idea is to highlight your staff's contribution in the email. If you are a hospital and you offer nursing services, you can include pictures of your staff or Reviews in your email who have been helping seniors for years and are loved by most seniors in your hospital.
This is an example of Home Instead Senior Care facility's review that the institutions included in their email. Such examples are always beneficial in order to establish your institution's recognition and prestige.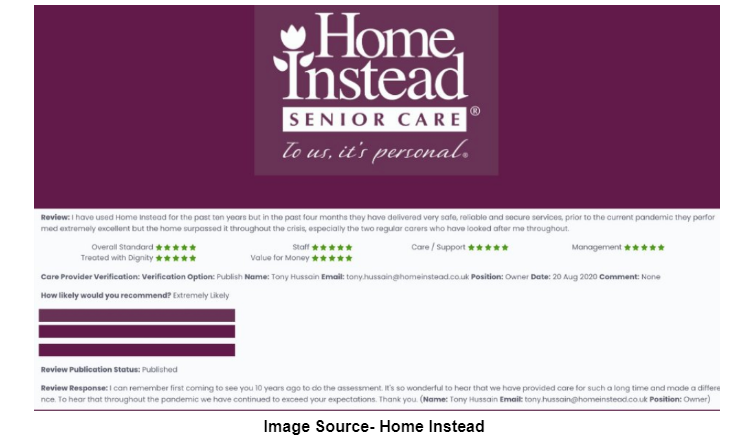 You can likewise incorporate any humanitarian effort your association has accomplished for any non-benefits locally. It's consistently incredible to see organizations devoted to the advancement of their individual districts. Your crowd needs to see that your organization is working with genuine individuals – that it has a face and a character that individuals can identify with and draw in with.
4. Know Your Senior Customer's Demographics Well.
To make this point clear, we would like you to imagine a scenario. Suppose, you are a brand and want to wish one of your registered customers a happy 60th birthday. Since they are located far from you, the best you do is send them a well curated and an attractive email.
Everything is going well. And you know you have done your job well. But what you don't know is that it's not actually their 60th birthday, it's their 61st birthday.
What do you do?
Well! You need to prepare yourself for one unsubscription. And that's not just one unsubscription. That is one good customer lost.
Don't let that happen.
You need a good emailing list that is accurate, updated, authentic, and organized. In precise words, you need Senior Source List's curated data that saves you time and brings more subscriptions.
5. Hit The Right Questions to Make Your Seniors Think.
Never beat around the bushes and jump into long-tailing stories. The most important way to connect with your senior consumers emotionally is to ask them the right questions. It is the best approach to drive greater commitment among your senior crowd.
For example, seniors are never too old to find productive opportunities to spend their time. So, if you are a business, you just hit your email with the question- Hey! Your retirement can be more fun. Join our institution for fun filled activities to bring back your childhood memories.
We bet such statement headings are hard to miss. Frame emails that target such queries.
These inquiries and answers will likewise assist you with deciding marvelous new points to add to your email's content.
Conclusion
Above we have discussed 5 ways to connect with your senior consumers emotionally. We believe incorporating these tactics in your next email will boost your ROIs along with bringing you trusted and loyal customers.